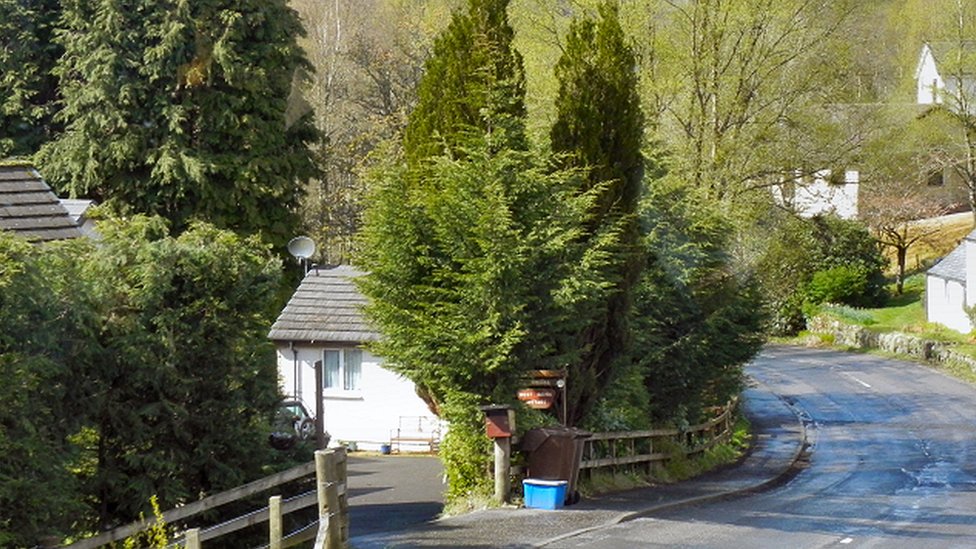 A village in Stirling was left without internet access for several days after a lorry crashed into a telegraph pole.
The vehicle – owned by a contractor for Stirling Council – left "significant damage" following the incident on Thursday.
Broadband was affected for the majority of residents in Brig o' Turk and some properties in Invertrossachs.
Openreach carried out a temporary fix but a small number of households are still disconnected.
One local resident told BBC Scotland the Ripple Retreat – a respite centre for families affected by cancer – had also been impacted by the damage.
In an email to Rural Affairs Minister Mairi Gougeon, the woman described the significant impact on the community as poor mobile reception left many households "without an alternative".
'Accessing essential items'
She said: "As a result, local children are unable to effectively revise for their preliminary exams, with most revision resources being online.
"Elderly people and other people vulnerable to Covid-19 are unable to shop for groceries online, leaving them with no safe means of accessing essential items.
"Rural businesses already struggling with the impact of the virus and its mitigation measures are unable to connect with customers or conduct necessary work online.
"People working from home during this crisis have unable to complete any online work."
The Scottish government said it was investigating the issue "as a matter of urgency" given the impact on the community.
A spokeswoman said: "Digital connectivity has proven to be vital during the last few months, whether supporting our health and emergency services or in enabling people to work or study from home and stay connected to friends and family."
'Beyond our control'
Openreach said the crash damaged overhead wiring and ripped up copper and fibre cables from the ground – the fibre cable supplies broadband to the majority of residents in the area.
Several days later engineers installed temporary fibre cables to restore service to the majority of households.
A spokeswoman for the firm said the pole and new aerial cables would be installed on Wednesday.
She said: "We're really sorry for the disruption to broadband, which was beyond our control on this occasion.
"Anyone experiencing loss of service should report it to their service provider, who will arrange for Openreach to investigate further."
Stirling Council said it was aware of the incident and the matter was under investigation.